Die Künstlerin Carolyn Graham lebt in einem kleinen Fischerdorf an der Ostküste Englands und findet ihre Inspiration in der Natur.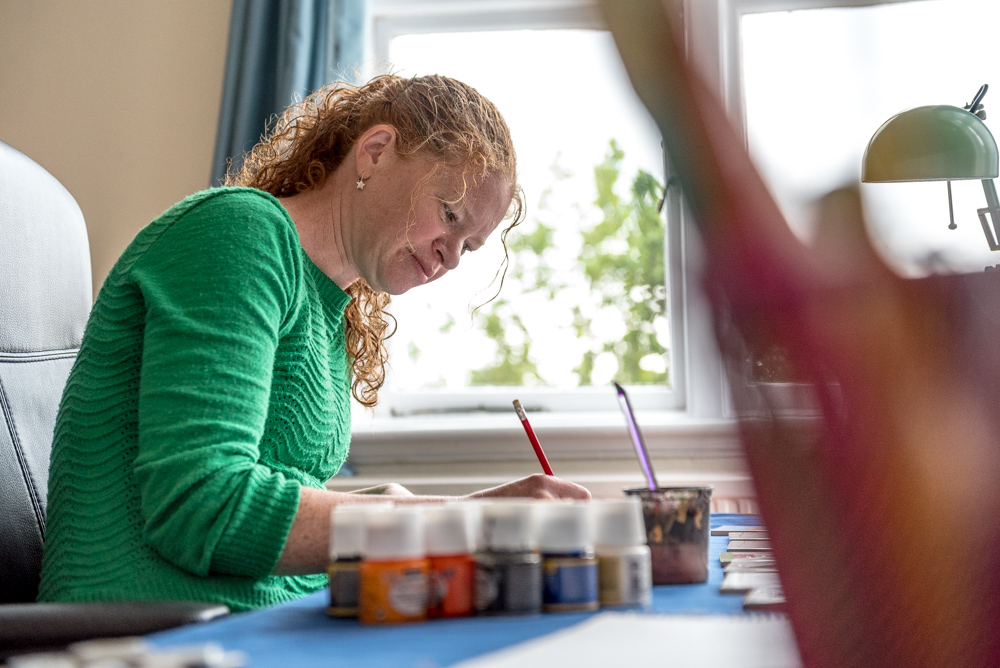 Briefly describe your hometown Mundesley
I live in Mundesley on the North Norfolk coast – it is a very traditional seaside village with a long sandy beach, and great for swimming and surfing.
.
What is typical for Norfolk?
There are beaches that go on for miles, rural undulating (1) countryside dotted (2) with quaint (3) villages of pretty flint (4) cottages. It's a beautiful county which is busy in the summer but feels empty and remote (5) in the winter.
.
Which are your 3 favourite places in Norfolk?
The medieval city of Norwich, full of great coffee shops and quirky arty shops.
Cromer – my nearest town – with its pier and promenade, local ice cream and fish and chips.
My beach! (It's not actually my beach but I call it that as I live on a clifftop and there are steps down to the beach where I swim most days.)
.
Which are your 3 favourite places in Great Britain?
Derbyshire is my favourite place to go hiking
Cornwall for surfing and for wandering aimlessly round historical streets of little galleries and arty coffee shops
Cambridge where I used to have a market stall.
.
What is your motto for life?
Stay true to yourself, be open, free and alive!
.
Which three things would you take with you to a desert island?
A massive novel
Suncream
Swimsuit
.
What were your milestones in your career as an artist?
About 10 years ago I took the plunge (6) to be an artist full-time, it was at a time of upheaval in general in my life and it was a risk but I knew it was the only way I could focus on what I really wanted to do and with a lot of hard work and long hours that risk paid off.
.
What are the things that inspire you most?
.
What was your best nature-experience?
Trekking in Nepal, feeling completely immersed (7) and in awe (8) of nature.
.
What is your favourite sandwich?
Fish Fingers and cheese in chunky homemade bread.
(1) undulating: hügelig
(2) dotted with: gesprenkelt mit
(3) quaint: idyllisch, altmodisch hübsch
(4) flint: Feuerstein
(5) remote: abgelegen
(6) plunge: das Eintauchen
(7) immerse: eintauchen, sich vertiefen
(8) in awe: in Ehrfurcht